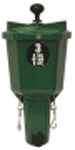 Bayco's leading 700 ball washer with custom area for decal detailing hole information of your course. Decals sold separatly. Bayco 770 ball washer is cast in permanent mold aluminum alloy. Inner parts are stainless steel and high strength polymer. Smooth spiral action for complete ball cleaning. Will give years of trouble free service. Easy grip agitator knob which is replaceable if damaged. Flange cover fastened to body with large stainless steel countersunk head screws; never seize – easy to remove. Brush assembly rigidly fastens to underside of cover with stainless cap screws. Powder coated color finish ensures durable and beautiful color for years. Bayco Golf's 770 ball washer is also available in red, green, black and copper vein ( copper vein has an additional cost). Additional colors quoted on request. Capacity: 6 imperial pints, 7.2 U.S pints.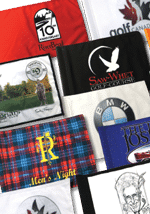 Custom Golf Flags Available! Poly Silk Flags flutter flag Single side dye that has 98% show through to the other side. Very lightweight. Works great in low breeze or cross breeze settings. Great in arid or semi arid environment as it is always fluttering even in a 1 mph breeze. Very quick drying if wet, dries within minutes of the rain stopping. Poly Flags wind flag Single side dyed and approx. 50% show through to the other side. Very stable fabric in medium to strong wind due to the fact that the fabric is porous (pin holes) allow some wind to pass through. Longest lasting of the fabrics as it is the least susceptible to wind shear. Poplin Flags blocker flag for two sided dye. Excellent medium for heavy graphics or two sided graphics. An optional blocker can be added to allow no show through from front to back. Heaviest of the options especially when a blocker is added, this tri-layer flag needs wind to move.

Bayco Golf fiberglass tournament poles are manufactured to the highest quality and appearance for excellent corrosion and weather ability. Base color is impregnated throughout each Bayco Golf flag pole. Polyester fiber surface veil to minimize slivering. Fiberglass poles come with aluminum bottom ferrule ( smooth, slotted and british ). Top bushing and acorn nut will suit swivel for grommet style flags or tube style flags. Also, comes in 7.5, 8, 10 and 12 foot lengths.

The Pro Hole-Cup has been designed and finished to exacting standards resulting in a world class hole cup and locking ferrule system. Great way to generate extra revenue for your golf course. The inside liner is completely customizable.
Complete with Bayco spike brush and side brushes. Bayco spike brush stand is constructed of 1″ steel tubing with flanged base. The double brush spike cleaner stand with side brushes comes complete with four 6″ stainless steel spikes for mounting on ground surface.

Available in stock colors of Green, Red and Black. Other colors available upon request.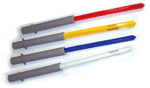 These markers are a great replacement for the painted stakes. They will provide immediate reference to the potential trouble areas on the course. The two piece unit includes a permanently installed, easy to locate ground socket that will assure consistent location. Removable post for faster mowing operations. Post available in 24″ and 30″ in the colors of red, white, blue and yellow.

Large 24″ black hollow head, octagon rake with 72″ handle which is available in green, yellow or black is perfect for maintenance around your course. Diamond shaped teeth for easy action on forward and backward strokes.
Golf Course Accessories by Bayco
The line features a complete variety of golf equipment for your course.Some of the items available are flagpoles, cups, flags, custom flags, fairway marker systems, tee markers, ball washers, benches, tee towels, ball washer soap,and trash cans. Also in the line are greens maintenance tools such as the Lever action cup cutters, soil probes, speed green testers, dew whip, cup pullers and setters.Specialty and custom bronze distance markers and tee signs are available.